The #goodnewscalloftheday for Thursday, February 18th (AMI Day 4) is Brendon. Brendon completed all of his work with a good attitude. He even shoveled his grandmother and her neighbor's driveways! Awesome job Brendon!! #gohoundawgs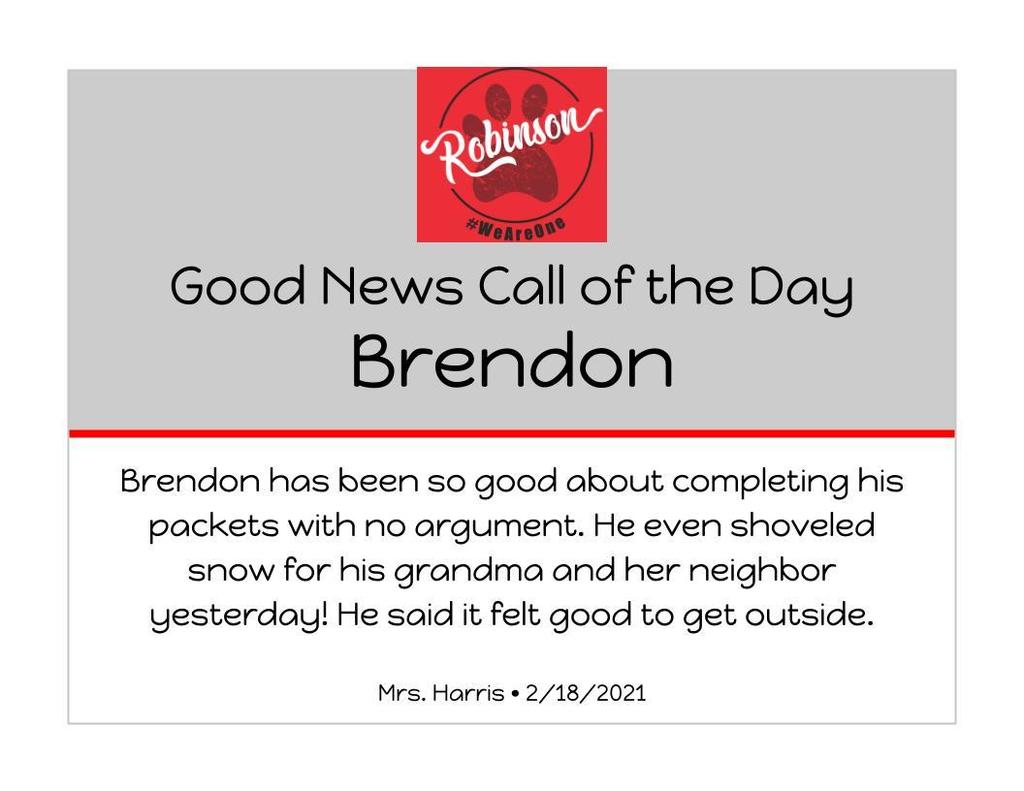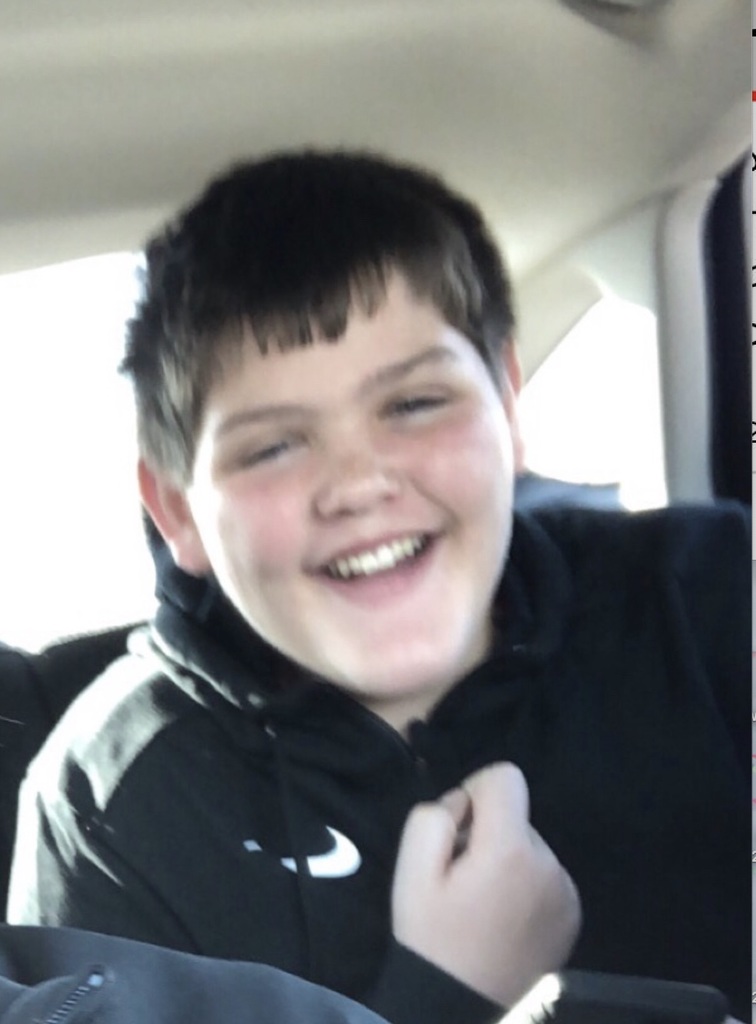 The #goodnewscalloftheday for Wednesday, February 17th (AMI Day 3) is Jackie. She submitted all of her "at home" assignments, showing her work in great detail! Way to be responsible Jackie!! #gohoundawgs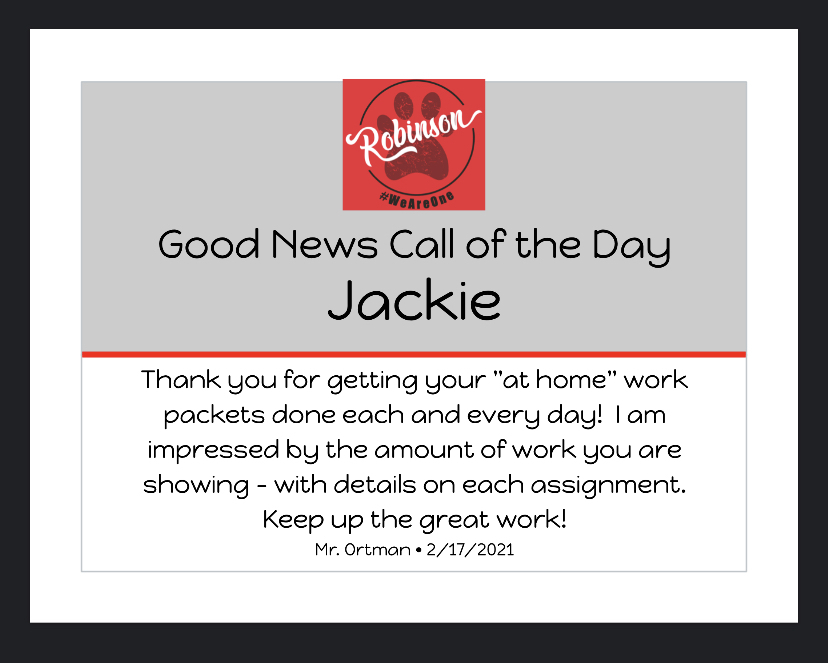 The #goodnewscalloftheday for AMI day 2 is Juan. Juan did his work correctly and used complete sentences just like in the classroom. Juan is also a big help at home!! Way to go Juan!! #gohoundawgs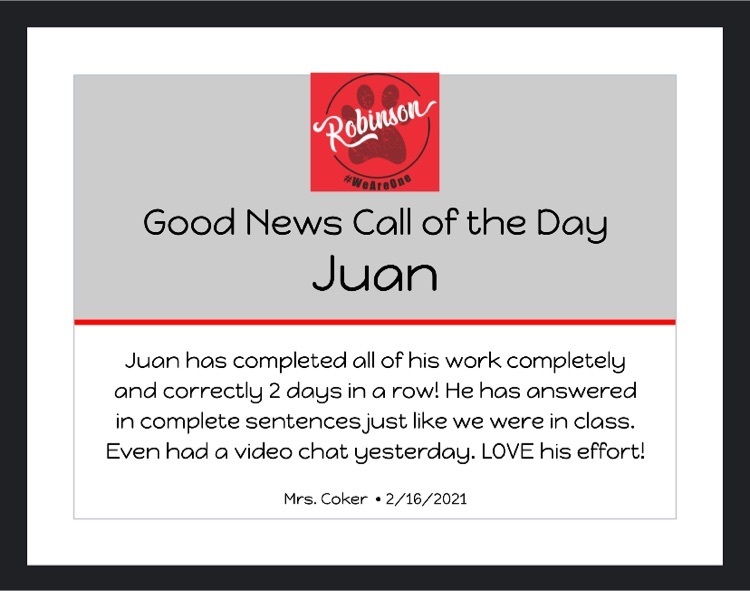 The #goodnewscalloftheday on our first AMI day @robinsonschool3456 is Jemma. Jemma got her work competed, corrected and even submitted a video question to her teacher to get clarification. Great work Jemma the cold didn't bother you!! #gohoundawgs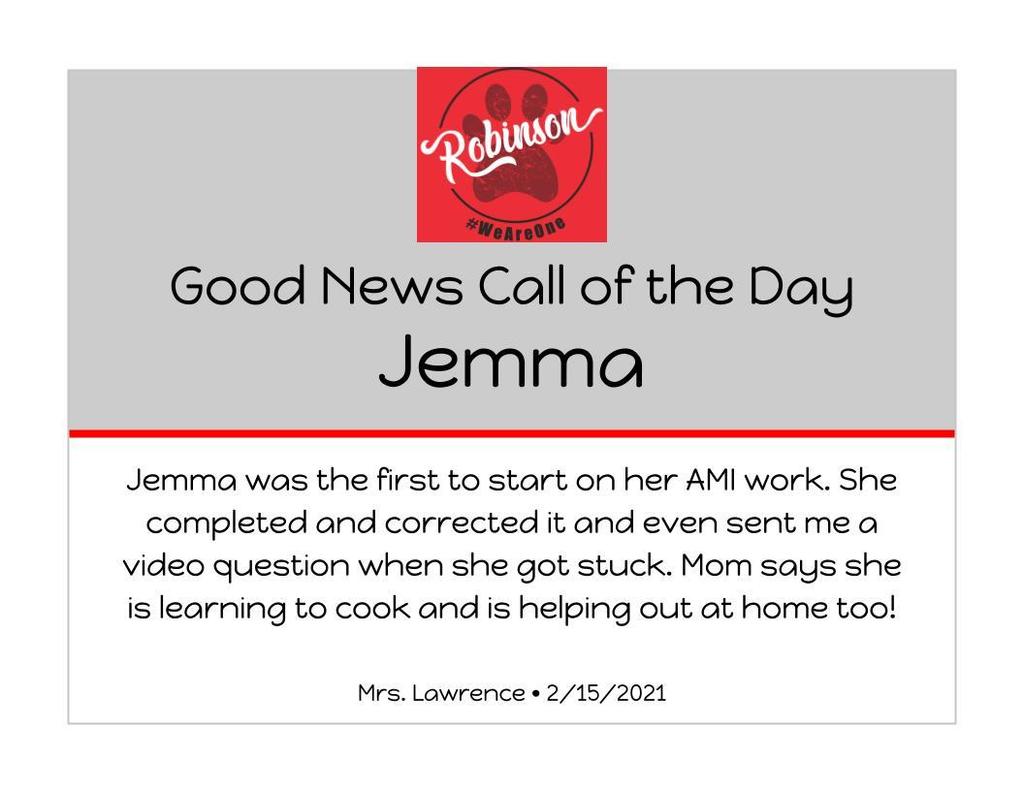 Aurora R8 will not be in session tomorrow, Tuesday, February 16. Please stay safe in the hazardous conditions. Thank you.
The #goodnewscalloftheday for Thursday is Lucas. Lucas had a super day. He completed all of his work , used his time wisely and had a great attitude! Bravo, Lucas!! #gohoundawgs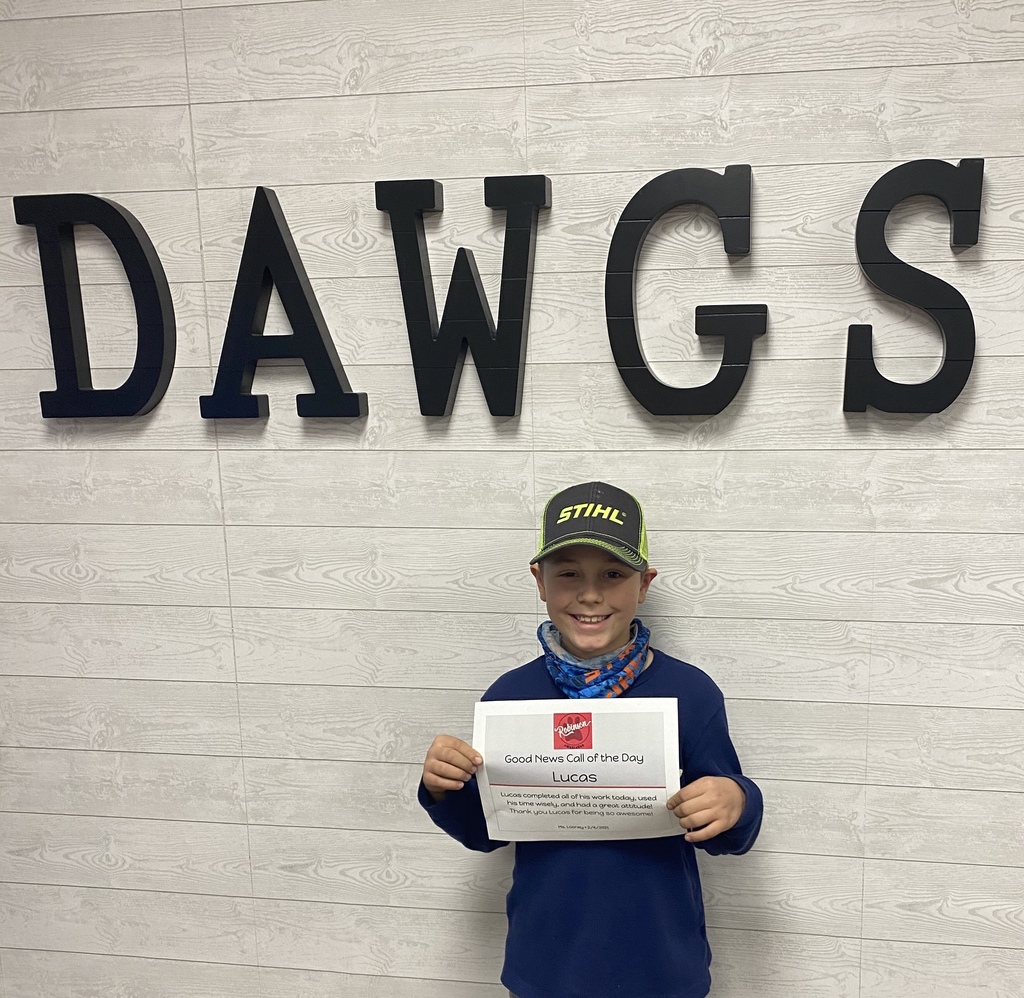 Today was a great day to be a Robinson School Houn Dawg! Omar was the first 5th grader to complete the DQ Pacer Challenge. He ran enough laps to make it to the nearest Dairy Queen. His prize was a DQ Dilly Bar. Great work Omar!! #gohoundawgs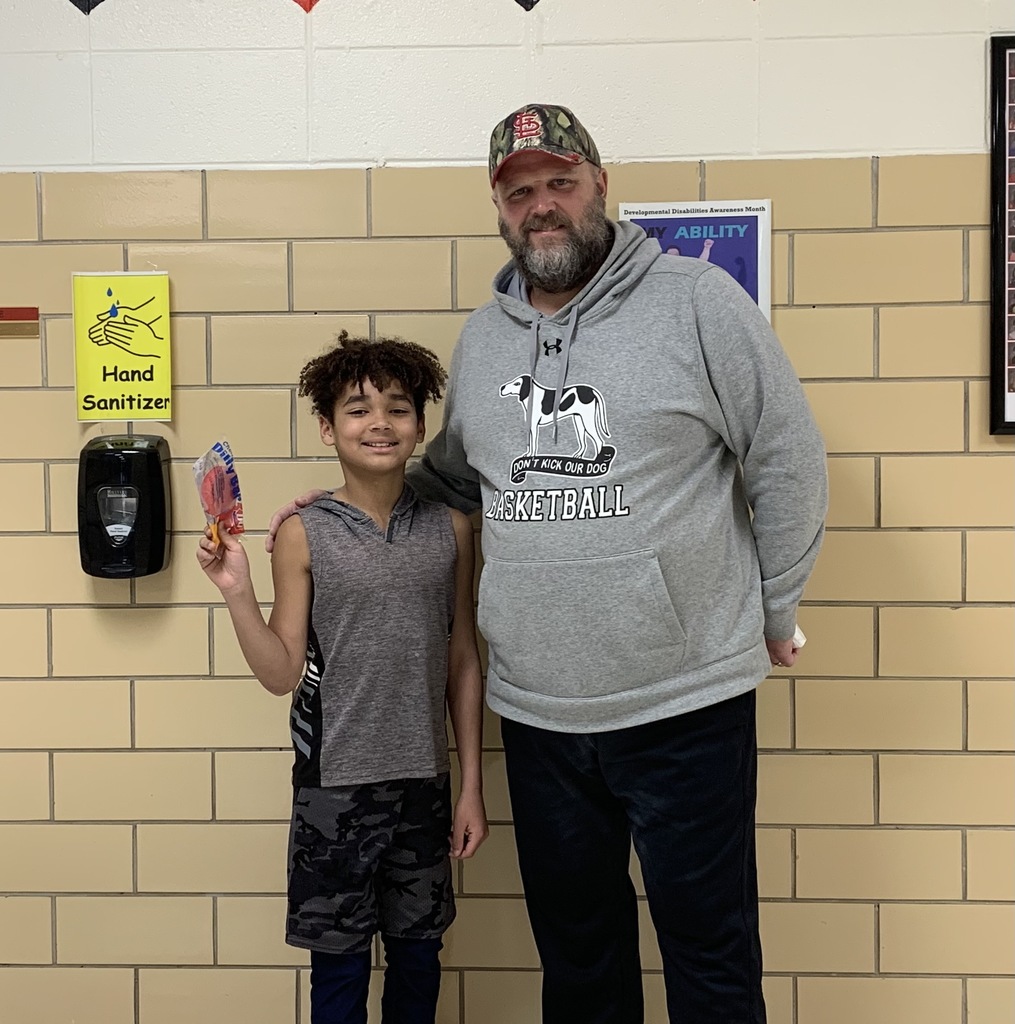 Emma is @robinsonschool3456 #goodnewscalloftheday for Wednesday. Emma is a hard worker that wants to learn and always strives for her personal best! You are doing great things Emma! #gohoundawgs
The third installment of 4-H at Home is coming home this week. This activity is a Miniature Catapult! The video link is below! Have fun building!!
https://youtu.be/soZq7MwyJ3E
The #goodnewscalloftheday for Tuesday, Februrary 2nd was Mikailynn. Mikailynn is a great leader. During writing she led her group in some great discussions and was able to explain her thinking! Awesome work! #gohoundawgs
The #goodnewscalloftheday for Monday is Baylee. Baylee had a fellow student's back by helping with a project the was difficult. It is great to see students helping students @robinsonschool3456! #gohoundawgs
The #goodnewscalloftheday @robinsonschool3456 is Waylen! Waylen found some money in the hallway and he went to each classroom in his hall until he found the owner! Thank you for your honestly Waylen!! #gohoundawgs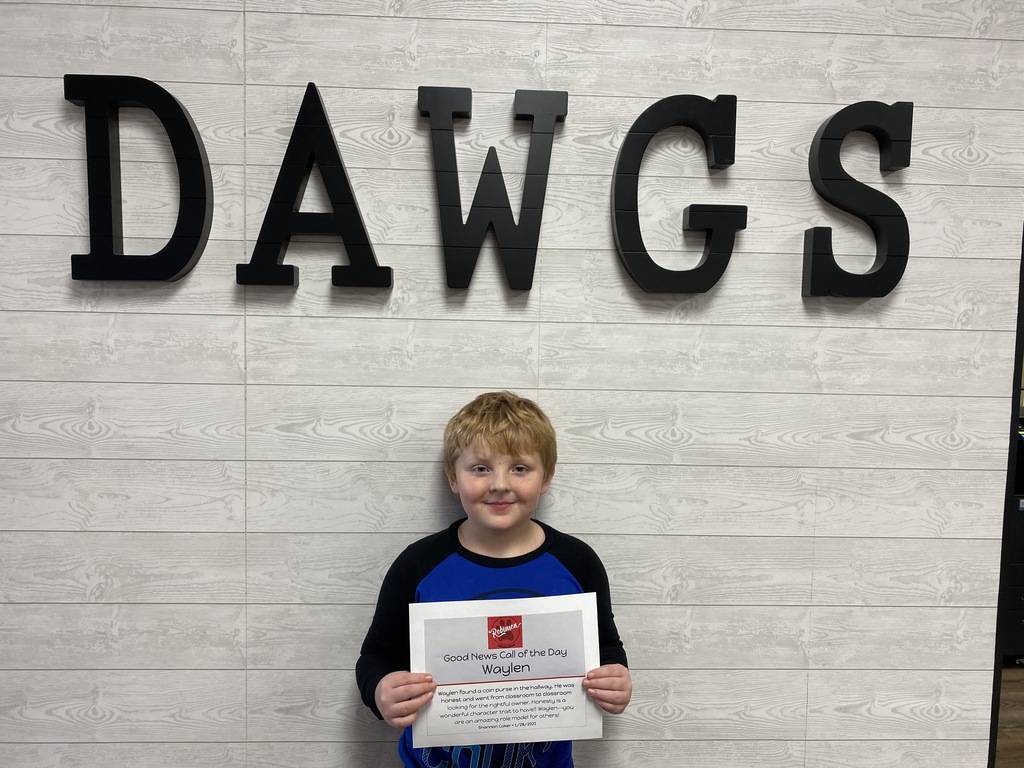 Mrs. Coffman's entire 5th grade class is the #goodnewscalloftheday for Wednesday, January 27th! Mrs. Coffman was delayed because of the snow and her entire class started their morning perfectly while another teacher monitored. Way to be responsible 5th graders!! #gohoundawgs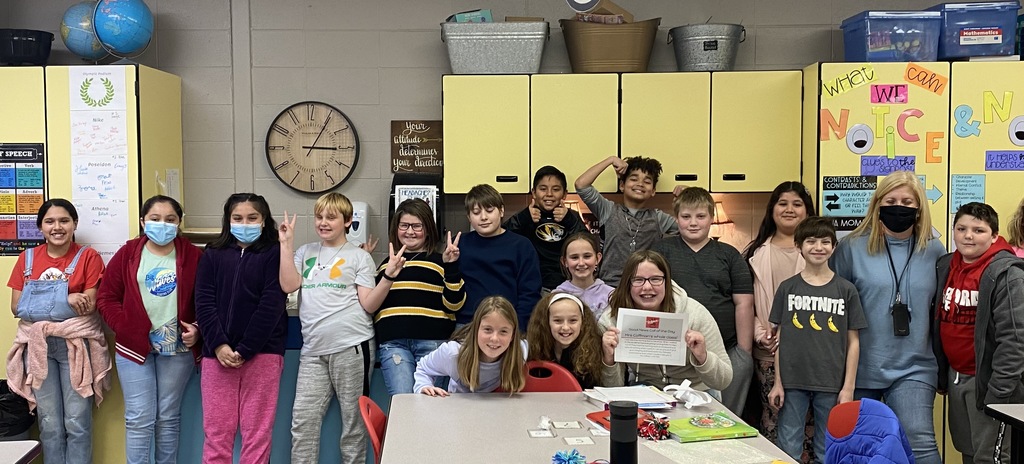 The #goodnewscalloftheday is Stormy. Stormy is a big help to her teacher and other classmates. She wants everyone to succeed! Way to be awesome! #gohoundawgs
@robinsonschool3456 Monday #goodnewscalloftheday is Araya! Araya was prepared, worked hard, and set a good example for others! Awesome job Araya! #gohoundawgs
The #goodnewscalloftheday for Thursday, January 21st is Avery. Avery is the first student to read all 12 of the books that are Mark Twain nominees for the year. This is a great accomplishment. Super work!! #gohoundawgs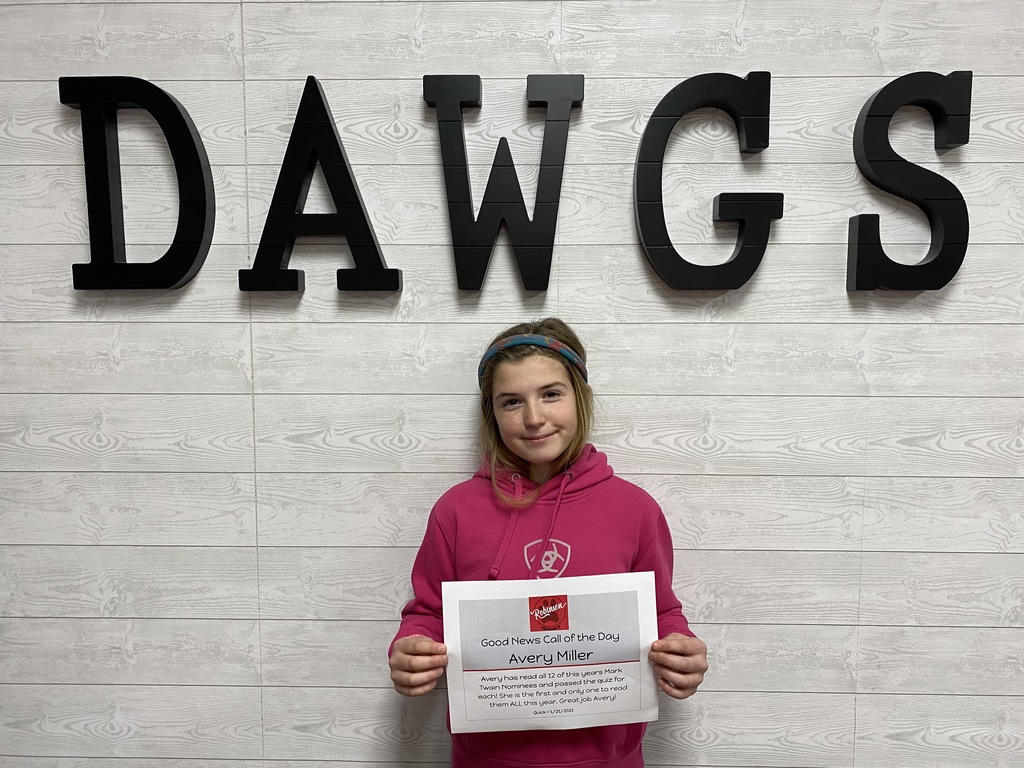 Congratulations Memphis!! He is the first student to complete the DQ Pacer Challenge. Memphis ran the required 550 laps which is the equivalent of running to the nearest Dairy Queen. His reward is a DQ Dilly Bar!! #gohoundawgs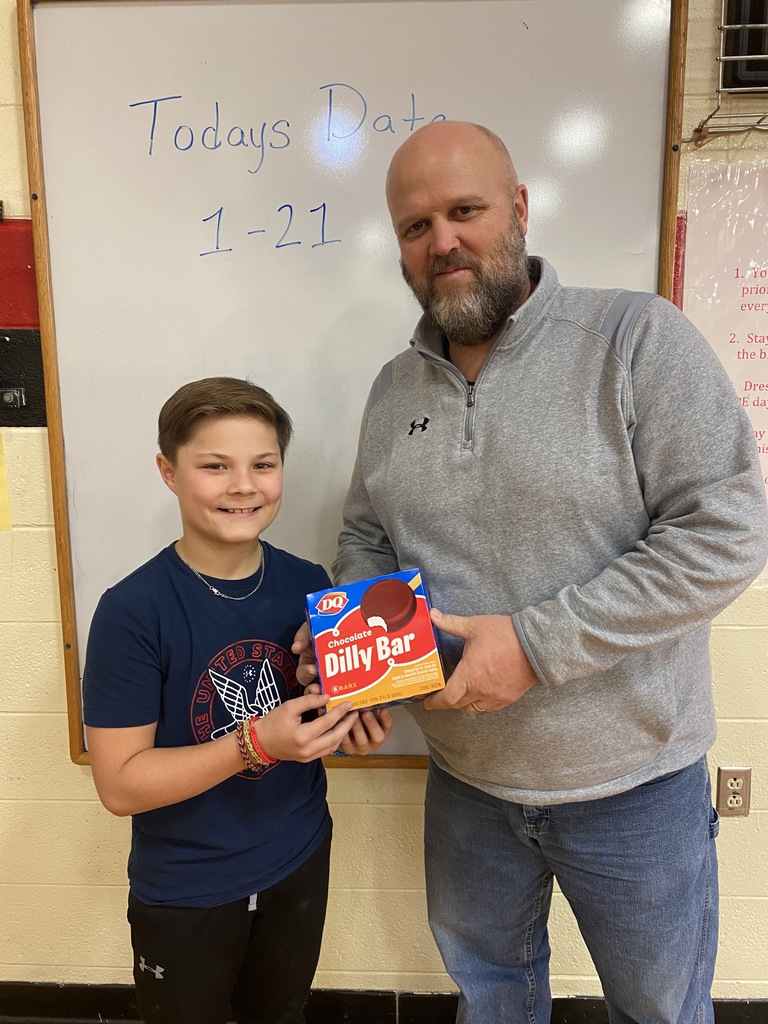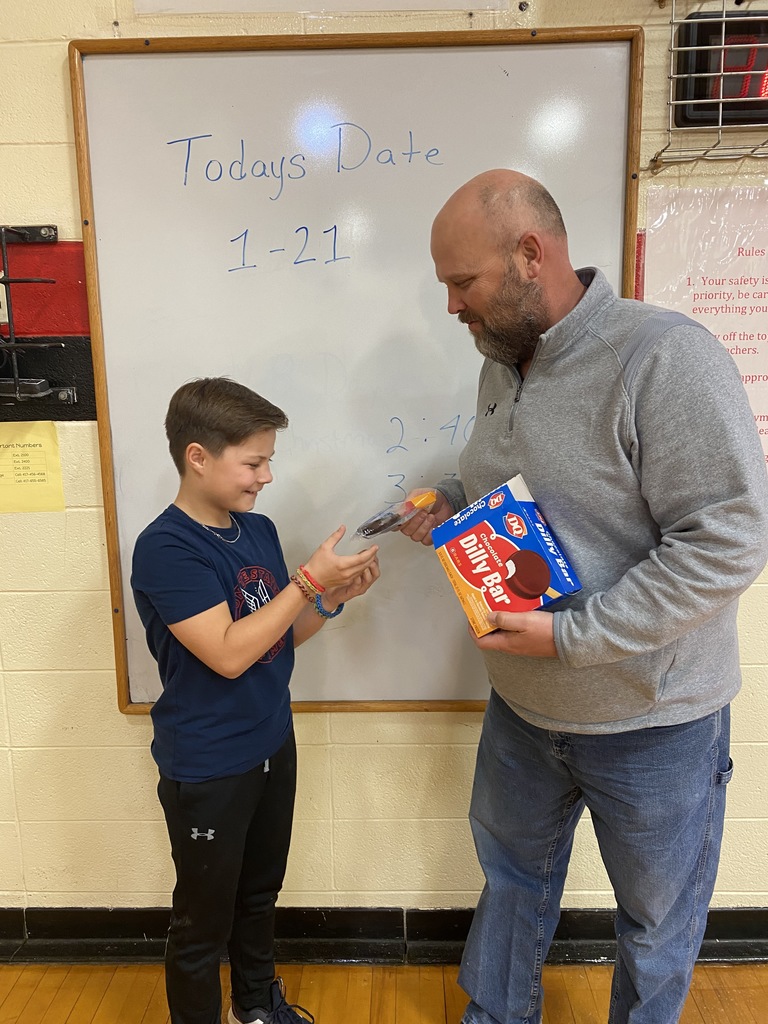 The #goodnewscalloftheday for Wednesday, January 20th is Caleb. Caleb had a great day of working hard and completing his assignments. Keep it up Caleb!! #gohoundawgs
Sean is the @robinsonschool3456 #goodnewscalloftheday. Sean's teacher writes that he has exhibited nothing but commendable qualities. Sean is a quiet leader, leads by example, is respectful, listens well, and works diligently on each project. Awesome job! #gohoundawgs
The #goodnewscalloftheday is Michael. During his lesson on MLK, Michael was full of compassion and had great ideas on how we can continue to make our world a better place and treat everyone equally. Way to be an amazing example and leader, Michael! #gohoundawgs